What We Liked:
Great for walking
Form fitting
Multiple width sizes
Rubberized sole
Run true to size
What We Didn't
Not meant for long distance running
Not for sprinting
Asics Gel-Nimbus Running Shoes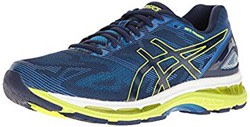 The Asics Gel-Nimbus 19 has a cushioning system in both the rear and forefront of the shoe. These gel cushions make it super comfortable while you're walking, running, or exercising. They were made with Asics' "flytefoam" technology that has tight and loose areas of the shoe. Your foot can move naturally, and this shoe will follow those motions. Unlike other shoes that are too stiff or too loose, this technology creates a firm feeling of support without restricting movements. If you're a runner then these might be a pair of shoes to consider. The fit is greater for neutral running as opposed to sprinting with lots of stopping and quick cutting. The sneakers are made from textile and synthetic materials. They also have a rubberized sole that is ideal for gripping to whatever surfaces you walk or run on. You will be pleasantly surprised by how light the Asics Gel-Nimbus 19 are too.