What We Like:
Great for runners
Gel cushioning
Lightweight and durable
Comfortable
Your foot moves naturally in the shoe
What We Didn't:
Not ideal for sprinting, cutting, or pivoting
You may need to wear thicker socks with these
They run small
Asics Gel-Resolution Tennis Shoes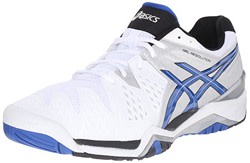 The Gel-Resolution 6 Tennis Shoes made by Asics has a toe bumper to protect your feet from the elements. It's common for tennis players to slide while they play, and their toes can rub against the playing surface, which is painful when not wearing the proper shoes. Asics uses their signature gel technology in the midsole to absorb the shock of running and jumping while wearing these sneakers. If you like the look, feel, and style of low-cut shoes, you might want to consider these as a viable option. They also come in bright colors so you can look great while you're performing. The outsole is made with materials that provide additional durability. You can beat these up and not have to worry about them coming about or ripping. Asics also reduced the weight of these soles, so the shoes won't feel too heavy while you wear them. Your upper layer will remain stable while you run and make quick cuts or pivots on the tennis court. However, they are not built for long distance running. Check our top rated running shoe reviews if you need specific footwear for marathons, triathlons, mud runs and so on.