What We Like:
Great for walking
Wear them to work
Provide good traction
Mesh layer adds breathability
Help pain associated with Achilles tendonitis
What We Didn't:
Not for running
Not made for physical activity
DiaResc Lace-Up Orthotic Comfort Shoes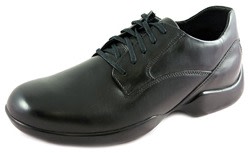 These DiaResc shoes provide extra depth. There is a quarter inch removable insole that can accommodate other orthotics based on your medical condition. The plain toe shoes can prevent ulcers and calluses. Their design helps patients with poor circulation in their extremities. In addition to Achilles tendonitis, these serve as great plantar fasciitis shoes, or for those with bunions, heel pain syndrome, and pain in the ball of the foot. If you have diabetes, these prevent your skin from breaking down, which can make your foot condition even worse. These are ideal for wearing to work with dress pants or casually with jeans. The plain toe design makes them perfect for formal events too such as weddings or funerals. If there's a need to dress up and be on your feet or walking around for long periods of time, you may want to consider these as an option. However, they are not meant for physical activity like running, exercising, or playing sports.
What We Like:
Removable insole for orthotics
Prevents ulcers in calluses
Great for people with other foot conditions besides Achilles tendonitis
Good for formal attire
Comfortable
What We Don't:
Not made for physical activity
Limited size options
Dr. Comfort Ranger Therapeutic Extra Depth Hiking Boots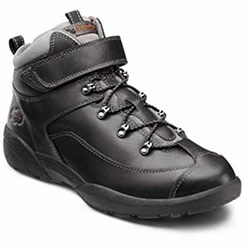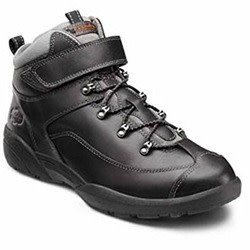 If you enjoy hiking and walking in tough terrain, these hiking boots might be a great choice to consider. It's difficult to go on hikes if you have pain and discomfort from Achilles tendonitis, but these from Dr. Comfort can help. The top of the shoe has a strap to for added support and stability. The Velcro strap acts as a compression against your Achilles tendon, which can limit swelling and inflammation. It has a padded lining that is seamless with leather upper that surrounds the shoe. Unlike most boots that are heavy and bulk, these therapeutic shoes are lightweight and easy to walk around in. These are perfect for outdoor adventures in tough conditions. Don't let your Achilles tendonitis stop you from enjoying the outdoors. Furthermore, these boots are very stylish.  You can wear them to walk around for daily errands as well, knowing that they look good on your feet. If you're after more choice, check our hiking boot reviews for 2017; though not all of them will suit your foot condition, there are some which will be just fine.
What We Like:
Great for hiking
Durable in tough conditions
Velcro strap
Made with real leather
Padded lining
What We Didn't
Not for running
Not for exercising
New Balance M1540V2 Running Shoes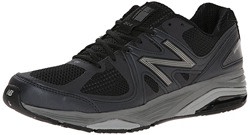 The New Balance M1540V2 has a padded mesh tongue which is also made with breathable materials to keep your feet cool, and limit excess sweating and moisture. It has a roll bar support system in the collar to prevent from twisting an ankle or getting injured while you run. Features like this are great for people with existing foot problems such as Achilles tendonitis. The foam in the collar is also dual density, so it provides an additional comfort and cushioning. The rubber sole is perfect for all running surfaces. You won't have to worry about slipping or falling, which can lead to other unwanted and painful injuries. You'll get great traction when pushing off with each leap that you take. The New Balance M1540V2 also comes with a polyurethane insert, that's removable if you want more space. For example, if you have orthotic inserts that you'd like to add, it's simple to remove the existing one and replace it with another insert of your choosing.
What We Like:
Collar with dual density foam
Cushioned tongue
Breathability to keep feet cool
Polyurethane insert
Roll bar support system
What We Didn't
Your arches might hurt if you don't have flat feet
Stiff in some parts
Puma Cell Riaze Cross Training Shoes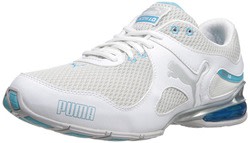 Puma made these lace-up women's sneakers for athletic training purposes. They have a padded tongue and collar to provide an extreme comfort for walking, running, and exercising. The shoes also have a rubberized sole, which provides excellent grip to pavement, sidewalks, and tracks. If you're not a runner, you can still wear these on a daily basis for walking around, going to the store, and other day-to-day tasks or errands. In addition to the cushioned tongue and collar, Puma also added extra cushioning to the midsole and heel. Basically, your entire foot is surrounded by cushioned material for maximized comfort. The outsole is made with EverTrack high-abrasion elements to withstand conditions and remain durable regardless of what you use them for.  There is a bubble technology used in the midsole to provide added comfort as well. Besides all the performance aspects, they are also aesthetically pleasing. You can be confident when you wear these knowing that they draw attention as a nice looking shoe.
What We Liked:
Padded tongue and collar
Great for physical activity
Good looking
Durable
Extra cushion in the midsole and heel
What We Didn't:
They are heavy compared to others
Not great for long distance running
Skechers Sport Shape Ups XT All Day Comfort Sneakers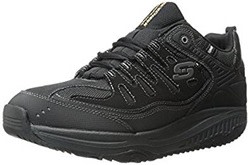 The Skechers Sport Shape Ups for men have a rubber rocker bottom sole with leather and synthetic upper layer as well. As well as being good for Achilles tendonitis, this type of sole is also one of the best shoes for bunions too. It has a cushioned midsole that provides you with comfort throughout the day. Although these are sports shoes, the dark color options make them a suitable choice to wear to work. They look great with dress pants, gray khakis, and brown khakis as well. These shoes get more and more comfortable every time you wear them. That's because they have a memory foam insole that conforms to the unique shape of your foot. Skechers designed the Shape Ups XT to make you stand and walk more erect to help with your posture and alleviate other pain in your body in addition to helping with your Achilles tendonitis.
What We Like:
Memory foam insole
Helps with posture
Reduce pain from Achilles tendonitis
Great for long walks
Comfortable
What We Didn't
Not for runners
Not the most stylish shoes
Conclusion
If you have Achilles tendonitis, you'll need to find a shoe that helps you get through the day. While all of the products on our list can do this, overall, the Asics Gel-Nimbus is the clear winner of this roundup. We believe they are the overall best shoes for Achilles tendonitis because they are versatile; you can wear them for walking, running, or casual activities. They meet all the criteria that we outlined earlier of the top aspects to consider for Achilles tendonitis. Asics made these with gel cushioning. Plus they are lightweight and comfortable.